Voltage Regulator Honda Xrv 750 Africa Twin (93-03)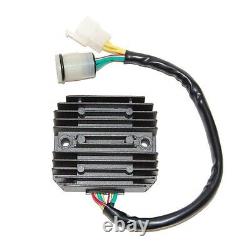 ElectroSport has been providing electrical components for road bikes, off-road bikes, and ATVs since 1998. Our product range includes stators, regulators/rectifiers, CDI ignitions, and electrical accessories.
The company offers its wide range of plug-and-play replacement and performance parts to individual consumers as well as retailers and distributors. Its location in Aliso Viejo, Southern California, facilitates development and testing as it is close to motocross tracks, deserts, dunes, and ideal road conditions. Having been in this industry for so long, they have gained a huge amount of experience with stators, regulators, and CDI products. This experience translates into a well-designed replacement part that lasts longer than the OEM product it replaces.
TOP-MOTO-PARTS is an importer and direct distributor of motorcycle parts. We are an experienced sales partner and have been in the motorcycle market since 2001. We only offer new products, the best quality, and the best prices!