Title: Oil, Air, and Spark Plug Filter Maintenance Kit for HONDA XRV 750 Africa Twin 1990-1992.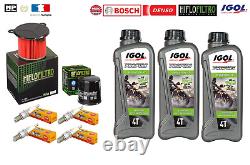 Pack Revision Filters / Spark Plugs / Oils. 4 Spark Plugs DP8EA-9 / DPR8EA-9. 3 Liters of engine oil. Semi-synthetic lubricant approved JASO MB of very high performance for 4-stroke Scooter engines. Formula developed specifically for small and medium displacement scooters meeting the JASO MB standard.
May also be suitable for other types of high-speed engines. The API SM performance level is characterized by improved antioxidant properties, increased combustion chamber deposit reductions, better wear protection, and reduced fuel consumption. Lubricant particularly suitable for urban driving with frequent starts. Spark plug according to stock: NGK / Bosch / Champion / Denso. Engine oil change: every 6,000 km.
Oil filter: every 12,000 km. Air filter: clean every 6,000 km, replace if necessary. Spark plugs: replace every 6,000 km. Carburetion: every 6,000 km. Valve clearance: every 12,000 km.
Brake fluid: every 2 years. Maintaining a motorcycle air filter. Riding with a clogged filter is like running with a blocked nose... The air filter plays a big role in the health, consumption, and "breath" of your bike.
It prevents impurities from entering your engine while providing the best airflow. The cleaner it is, the more effective it will be.
Lifespan of an air filter. The lifespan of a motorcycle air filter can vary greatly depending on whether it is well maintained or not. The procedure is not the same for a foam or paper air filter, but in both cases, your engine will benefit. Cleaning paper or foam air filters.
Clean a paper air filter. For paper air filters, dry cleaning is recommended.
Start by gently separating the folds of the cardboard and vacuuming to remove the bulk. Continue with a brush, but not too hard to avoid damaging the paper structure. If you have an air compressor, a good blast of air combined with the brush will be even more effective. (Direct the airflow from the inside to the outside of the filter to remove impurities and not push them in)(and vice versa, when you vacuum).
Important: paper filters should not be oiled as they operate dry, and this would only clog them further. Clean a foam air filter.
For foam air filters, avoid using white spirit and gasoline as they degrade the cells. Clean it twice with warm soapy water and rinse it well each time. To squeeze it, press it but do not twist it (to preserve the foam).
When it is completely dry, naturally, not with a dryer or radiator! Put it in a plastic bag with filter oil and knead it. Then, when it is well soaked and well drained, apply grease to the contact surface with the airbox and replace it. (For cross/enduro use, expect a replacement every eight to ten washes).
The average lifespan of an air filter varies depending on its nature, use, and maintenance. For a paper air filter, it ranges from 5,000 to 12,000 km depending on usage. For a foam air filter (off-road motorcycles), it can go up to 45/50,000 km.
Contrary to popular belief, riding in the city does not spare the air filter. It gets dirtier in polluted environments than in the countryside. Of course, for cross or enduro use, it's a different story.
It is recommended to wash it after each ride. The lifespan of a motorcycle air filter can vary greatly depending on whether it is well maintained or not. To check if your air filter is still usable, place it in bright light and see if you can see light passing through. If you still cannot see the light passing through, it needs to be replaced. Finally, if you are unsure about its condition, consider that given the importance of the air filter, it is worth changing it a little too early rather than a little too late.
The replacement of the air filter. Replacing a motorcycle air filter is not too mysterious. In most cases, the filter is located in an airbox, which is usually located behind the carburetors, under the tank, or under the seat. When disassembling / reassembling, you can take the opportunity to wipe and vacuum any impurities that may have accumulated in the airbox itself, and to purge it by opening the end of the small tube that sometimes exits downwards.
Ensure a good seal with the new filter. Firstly, by placing it back properly during reassembly, and when it is a cross filter, by applying grease to the contact surface to prevent dust and other impurities from getting into the engine by passing under the air filter.
Do not use gasoline or white spirit. Never replace a wet filter (which could send water into the engine). Do not twist a foam filter to squeeze it (just press it).
Do not apply oil to a paper filter (only to foam and KN filters). Remember to dispose of the oil residues in a container and take them to a recycling center or garage, rather than in the water system. Reminder of Article 27 of the General Terms and Conditions: Electrical Parts Warranty. Electrical parts such as coils, stators, regulators, CDIs, electrical boxes... are only guaranteed in case of installation by a motorcycle professional.
Therefore, a installation invoice from a motorcycle professional must be provided. ATTENTION: PLEASE CHOOSE THE SHIPPING METHOD BEFORE PAYING. Economic letter 3-5 days without tracking!! We offer for certain small items, shipments in bubble envelope sent as a letter.
This shipping method is very economical but does not provide any guaranteed delivery time or tracking. Please take note of this and do not hesitate, for an extra 1 or 2 euros, to choose a tracked letter, pick-up point, or courier delivery. The processing time for your order may vary from 4 to 15 working days, contact us before making a purchase!!
Thousands of other parts available at Misterbike-fr. LOCKS, BATTERIES, SPARK PLUGS, CHAIN KITS, SPROCKETS, CHAINS, CLUTCH DISCS, AIR FILTERS, OIL FILTERS, FUEL FILTERS, OILS, ENGINE GASKETS, OIL SEALS, BRAKE LEVERS AND CLUTCH HANDLES, HANDLEBAR PROTECTORS, BRAKE SHOES, FIXED AND FLOATING BRAKE DISCS, BRAKE PADS, MOTORCYCLE TIRES, MOTOCROSS AND ENDURO TIRES, SCOOTER TIRES, ATV TIRES, INNER TUBES, LAMPS AND PROJECTORS, WHEEL BEARINGS AND STEERING BEARINGS, SPRAYCHAIN, TURN SIGNALS, REARVIEW MIRRORS, FORK TUBES, CABLES, TANK CAPS, HANDLEBARS, HANDLEBAR CLAMPS, SCREWS, HANDLEBAR END CAPS, VALVES AND VALVE CAPS, SWITCHES, WORKSHOP STANDS, FOOTRESTS, BELTS, EXHAUSTS, TOOLS, TOP CASES AND WINDSCREENS. HELMETS, RAINWEAR, COLD WEATHER CLOTHING AND ACCESSORIES, TIRE WARMERS, ETC. 03.25.55.74.71. Monday to Friday from 9am-12pm and 2pm-6pm.