Voltage Regulator TOURMAX HONDA XRV 750 AFRICA TWIN 1993-2003 Ref RGU-125.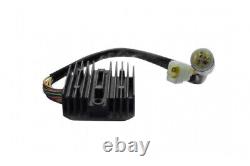 This part is compatible with the motorcycle models and years listed in the title of the ad. It is a plug-and-play installation, and matches the original specifications. It is an essential component in the charging system.
The photos are for illustrative purposes only and show a similar product installed on a motorcycle, but may not be the exact one for your motorcycle. Refer to the main photos in the ad to see the product you will receive.
Japanese company Tourmax has been developing motorcycle parts since 1972, and is known for its reliable, high-quality products. With a wide range of spare parts for motorcycles and quads, Tourmax is now a major player in the OEM and aftermarket products market. Whether you are a professional mechanic or a weekend tinkerer, Tourmax parts will give you the satisfaction you need. Imagine you're cruising along on your motorcycle, and one morning you turn the key and... Maybe the lights come on, but they're weak, and the starter won't even turn over. There are two possibilities: either the battery is just old and needs to be replaced, or there's something wrong with the charging system. After some diagnosis from your mechanic, it turns out that the voltage regulator, which among other things, converts your three-phase voltage into DC voltage, has given up the ghost. You need to replace it, or you can charge the battery all you want, but it will inevitably discharge again, possibly taking the faulty regulator with it. Fortunately, we have a solution that won't break the bank. Tourmax regulators are now known worldwide, and are just as reliable as the original equipment.
They install in the same place as the original, and plug-and-play connections make installation a breeze. Note: Checking the charging system requires specific skills and equipment to diagnose faulty components.
Therefore, for any warranty claims, an invoice for diagnosis and installation will be required. OUR GUARANTEES: SATISFIED OR SATISFIED! Product in stock in France. Package sent with tracking within 24 business hours. High-quality product that matches the description. GET TO KNOW US BETTER. AVDB Moto is a French company and brand that was created and based in the south of France in 2011, where life is good and the roads are great. Over the years, we have specialized exclusively in motorcycle accessories. Our catalog has grown considerably and continues to evolve over time, with several tens of thousands of references carefully stored in over 2,000 square meters of warehouses located just a few meters from our store and offices. Having a catalog with thousands of references is great, but for AVDB, it's not enough. It is essential for us to have them available in stock. Therefore, we only sell products that we can deliver to you without delay. When you order from our shop, we ship your package within 24 hours. And if there is a stock error, we will do everything we can, within 24 hours, to find a solution that suits you. The seriousness and helpfulness that we show daily in our store have helped us build a lasting and trustworthy relationship with the bikers in our region. We apply this same passion and philosophy to all our customers, whether we communicate with them only by phone or behind a screen. We are committed to continuing to fully satisfy our customers, and this involves: Do you have a question or doubt about the item? Having it in stock and within reach allows us to check it in real time and give you an answer. AVDB is a French company, but also a European company. Our ambition is to serve the biker wherever they are, and in the best way possible. For this reason, we have an international team within our company that offers you the possibility of communicating not only in French, but also in English, Italian, German, and Spanish. What could be better for communication and understanding! In case of a problem, you benefit from a service that is available, competent, and personalized.
If the product does not meet your expectations upon receipt, we can find an amicable solution if you wish, and of course returns and refunds are never a problem. And if the product is faulty in the months following its purchase, it is covered by a warranty that we will not try to avoid. Beyond a simple sale, you can count on the full availability and investment of our AVDB team to serve you and make you a satisfied biker.
Do not hesitate to contact us to find out about your advantages! AVDB MOTO - 7 RUE GUSTAVE EIFFEL 31140 AUCAMVILLE - FRANCE From Monday to Saturday, from 10am to 1pm and from 2pm to 6:30pm. To follow us, exchange, and get to know us even better, we are also present on: [social media links] In accordance with legislation relating to the extended producer responsibility and Article L. 541-10-13 of the Environmental Code, AVDB MOTO has a unique identifier for the products it distributes to ensure compliance with its obligations: Household packaging - CITEO - IDU: FR314634_01JJDL Household packaging - LIZENZERO - LUCID: DE2597756035494.