Honda XRV 750 Africa Twin 1992 RAC Suspension 40 mm Lowering Kit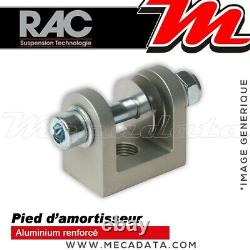 RAC Suspension Lowering Kit for Honda XRV 750 Africa Twin (RD04/RD07) from the year 1992. This kit lowers your motorcycle by 40mm in seat height. High-strength aluminum shock absorber foot. Replacement of the shock absorber foot. The side stand must be shortened.
Comes with ABE homologation certificate. RAC Suspension lowering kits have been specially designed and approved to safely lower your motorcycle. They will allow you to place your feet flat on the ground by lowering the rear of the motorcycle through modification of the linkage system geometry. The installation is simple and can be done quickly. You will have a more comfortable straddle of your motorcycle. You will have perfect control of your machine when stopped or during low-speed maneuvers, greatly increasing your chances of not falling and avoiding costly repairs. RAC Suspension lowering kits are delivered quickly.
In order to achieve proper front/rear balance, the installation instructions included with the kit also contain precise information regarding the front lowering of the motorcycle. The process generally involves extending the fork tubes from the triple clamps by a specific amount. These few modifications will ensure a healthy chassis and an enjoyable riding experience.
The specialist in motorcycle lowering in France, the best prices, the best service at Mecadata.