Honda Africa Twin XRV650 Black Frame Bags by Hepco and Becker (1988-1990)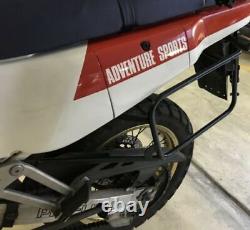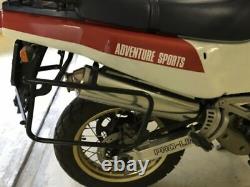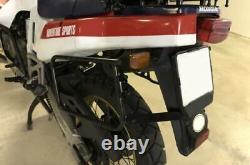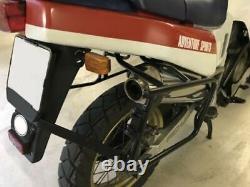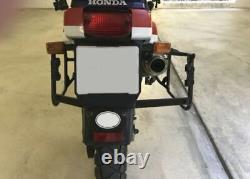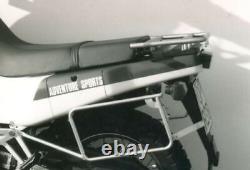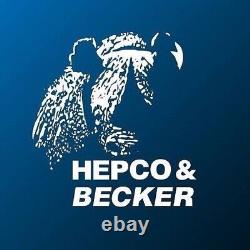 HEPCO & BECKER LUGGAGE ETC. Standard side supports are securely bolted to the motorcycle. All normal hard cases from Hepco & Becker are suitable for this luggage rack. The cases are attached to the support using a quick release mechanism.
For this purpose, an aluminum adapter is required, normally included in the case delivery. (Article number: 700114) This aluminum adapter is screwed to the right and left rear of the luggage rack and provides support for the luggage lock. The model-specific supports are solidly developed and offer effective protection for the legs of the driver or passenger, even in the event of a fall. HEPCO and BECKER side case supports.
Can generally be combined without any problems with a tubular top case support or other rear luggage rack systems from our company. Please refer to the assembly instructions. Steel tube construction MADE IN GERMANY.
Securely bolted to the motorcycle. The turn signals generally remain in their original position, but sometimes they also need to be relocated (please note the product assembly instructions). Recommended load: 10 kg per side case. Moto Legends Distribution Ltd was established in 2008 by Arthur Macdonald, former Bridgestone UK Motorcycle Manager, to import and distribute GPR motorcycle exhausts from Italy. A contact he established in the Moto GP paddock.
Since then, we have obtained exclusive distribution rights in the UK for Krauser luggage and we are also a factory authorized distributor for Hepco and Becker and Norman Hyde Ltd. The company has grown by selling fantastic quality products and supporting them with fantastic customer service.
All of our sales and customer service teams are current motorcyclists with rich experience ranging from racing bikes to touring bikes and classic trial bikes to cutting-edge supermotos. And probably everything in between. We remember that you have a choice where to spend your money and we want you to keep coming back to us.
We aim to ship all orders as quickly as possible. If we have your purchase in our UK warehouse, it will be shipped the same day or the next day. However, sometimes your order needs to come from the warehouse in Germany. This will normally add 4 to 8 working days to the processing time. If in doubt, please contact us. Order acceptance - our contract. Your order represents an offer for us to purchase a product/products, which is accepted by us when we debit your card and ship the goods to you.
All items can be returned within 14 days of receiving your goods, but they must be in their original packaging and show no signs of attempted installation. It is the responsibility of the buyers to pay the return fees. Once the items have been returned to us, we will notify you and process a refund.
We do not charge VAT for sales outside the EU. VAT is deducted before the addition of shipping for postal rates to the US, Canada, Australia, etc. If your country is not listed, please contact us.
DELIVERY TIMES - We try to ensure that our published delivery times are accurate, but please contact us if you would like to confirm. Precision fit and stability for over 40 years For over 40 years, bikers around the world have trusted our products. What started as a one-man business has become a dynamic company, with a motivated team behind it. No matter where you travel, HEPCO & BECKER is recognized worldwide for its durable quality products. Our dedicated staff is happy to assist you with less than 24 hours response time. Click here to contact us. HEPCO and BECKER standard side supports are securely bolted to the motorcycle. No matter where you travel, HEPCO & BE.